I lost my two posts. I just learnt that when you change settings, problems may occur. And though I really could not remember word for word what I wrote, I am still trying to write what is on my mind. I just hope nothing will happen and this post will be successfully published.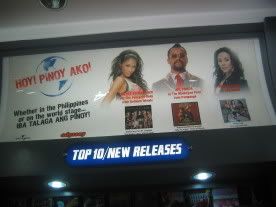 When we flew to the Philippines, we went to a mall in Taguig, Global City, the Metro Market Market and I took noticed of this poster. So I took a shot. Yeah, if well known people are proud to announce that they are Filipinos, how much more an ordinary person like me. I am from the Philippines and I am proud to say so.
Others had labeled me as unpatriotic for I am residing in another country. Am I really unpatriotic? We found Singapore the best country to raise a family, the country where my daughters will have the best education and the best opportunities to better their lives. We found our own "home" in Singapore. And all these don't mean that we are less Filipinos. We might be permanent residents or even citizens of other country but still we are all Filipinos by heart.
The shows of TFC as we watch on cable made us more proud of being Filipinos. As I mentioned before, the Wow Wow Wee show, a gameshow that awards cash prizes to contestants who are mostly from the poor population of the Philippines made my heart melt. I even labeled the people behind the show as angels.
Unfortunately, 75 people died from the stampede as people tried to enter the venue in ULTRA yesterday. It was so saddening to hear such a tragedy that could be avoided.
I don't want to join the blame game . I know that the concept of helping one's poor countrymen is a noble act. Others may see some negativity on this but all I see are the positive motives.
What's so prominent on my mind now is that my country is really poor. Not because my countrymen are a lazy lot but because there are no jobs for them. If only there are enough jobs.
My country is poor. People died on a stampede just to get a cash prize. Am I still proud to be Filipino? Yes I am. For the problem is not the Filipino people itself but the people who govern.
Sorry folks. It is time we accept the truth. Our poor economy kills more people and more hopes and dreams.