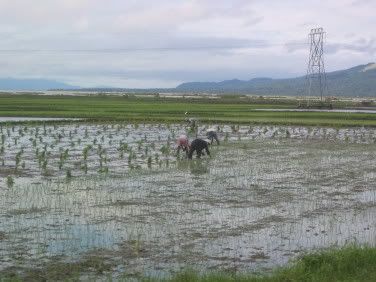 I took this shot when we flew to the Philippines. And just looking at these farmers, you'll imagine how hard it is to be a farmer. Having met and seen farmers in real life as in my hometown, a lot of people are farmers, I am familiar with their stories, and yet very impressed with how happy and proud they are with their work.
When I was in my grade school, I learnt that Laguna was so famous of the rice it produced and if I am not mistaken, many researches were made about this plant called rice in Los Banos Laguna. That was why I see farmers as the most impressive people then.
And now having lived in other parts of the world, whenever we buy rice, I always look for one that comes from the Philippines. But to my dismay, I have never seen one. Most of the brands are from Australia and the fragrant ones are from Thailand. Where's the rice from Laguna that made me so proud when I was a child?
When I visited my mother in Laguna, I learnt why there's no brand of rice that came from the Philippines in stores and groceries here in Singapore or even in other countries. I know you know the reason why. It is a sad reality of life in the Philippines.
And yeah, I should stop dreaming. Fragrant rice will always come from Thailand and never in my own country. Who's to blame for this deterioration of the quality of rice in the Philippines?