Though the month of December was a hectic month for me, I was still able to enjoy Saturday movies with my family at Causeway Point's Cathay Cineplex. And yes, watching movies do makes one relax and enjoy.

We all enjoyed the movie King Kong by Peter Jackson. Since we all watched his movie trilogy, The Lord of the Rings, it was just natural for us to watch his current movie. And we were never disappointed. The movie was full of special effects that were all a feast for our eyes. I like best the scene where Jack Black and Adrien Brody were running away from those dinosaurs. It really looked so real.

And I just realized that Naomi Watts is really a beautiful woman. She was captivating in all the scenes there. But Jessica Lange will forever be the best lady for King Kong as far as I am concerned. She's a real beauty much beautiful than Naomi.

But one thing made me think. As far as I know the silver back gorilla can be found only in Africa. I could not imagine that type of gorilla living in Indonesia.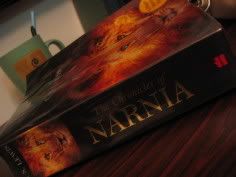 The next week, Sunday night actually which was Christmas Day, we watched The Chronicles of Narnia. I could not believe that a children's story could be made into such a convincing movie. Yeah, I've read the novel when I was a child. That was why I was so happy when my youngest daughter bought the book. And for the story line, I still consider it as a children's literature with an eye of a child. The fact that C.S. Lewis pointed out that a good deed can change one's evil plan is something that we have to keep to heart. No matter how evil a person is, I still believe that his evil ways or plans will change once we show the goodness of our heart.

The movie was excellent for me. That lady named Tilda who also acted in The Beach was so good in the movie too. She was a convincing villain as the White Witch.

And then the next Sunday night, my daughter rented a DVD at the shop downstairs. We watched The Skeleton Key starring Kate Hudson which was shown in cinemas a year ago if I am not mistaken. The movie scared me to death. And I learnt a word, a kind of magic as practiced in that part of Southern USA, called Hoo Doo. I will never for the life of me be interested to know more about it. I could not explain how I felt at the end of the movie either. It left me numb. Caroline, as played by Kate Hudson, just wanted to help but in the end, her soul was robbed from her. I mean, her own physical body was taken away from her. If this could happen in real life, this is so unfair.
But that was only a story with a chilling twist.

With all those movies we watched, I thank God for the nice things in life. I hope to watch more movies in the future and read more and more books.