This birthday card was given to my husband by his company's President & CEO through their AVP. It was given so early for his birthday is days more; on the 16th. I told my husband that he needs to treat them for dinner.
Pero kuripot yata talaga.

Pero teka, naunahan pa nila akong bumati ha!

Kaya eto, I am posting this now.

Advanced Happy Birthday to my husband!!

I hope you'll see this post there. (He's in that part of Indonesia visiting the vendor for some parts inspection for the materials in their Power Plant project in Vietnam.) I hope for your safe return tomorrow.

And speaking of the good times, oh, I remember our three years in Hong Kong. Tuen Mun will always be a part of our memorable and happy days together both as a couple and as parents to our children. Just look and reminisce the good old days......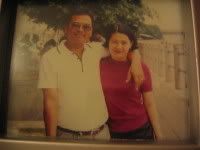 And looking forward to our more good days with our grandchildren............