Yesterday was a public holiday here in Singapore as it was Vesak Day, a Buddhist celebration. That was why we were able to relax and did some workouts in the gym and swimming in the pool downstairs.

Before the day ended, my daughter asked me and her Dad if we wanted to watch the movie, Poseidon. Of course we wanted to with one condition; we would watch the Gulong ng Palad final show. That was why she bought the tickets for 9.35 in the evening showing.

And speaking of Gulong ng Palad, we watched it from day one to the end. With a nice story line, good shots and convincing performers added with the captivating theme song, we were glued to our TV, all of us including my husband.

When I was in college in an exclusive school in Manila, it was not in my lists of activities to watch Filipino TV soap opera as I was "sosyal" daw. I even grew up with the mentality that the local showbiz was so "bakya" or for the masses only.

It was only when we resided in other countries that I learnt of other people's love for their local personalities. There were no words like bakya or sosyal either. As long as you study very well and make it on your own, then nobody have the right to say anything about your choices. And there was no shame in watching local shows.

Now here in Singapore, my family is proud to say that we are watching Filipino shows and that we never failed in watching Gulong ng Palad, and we will also watch the next soap opera, Bituing Walang Ningning. We may be called "bakya" by other Filipinos, I don't care a bit. What I know now is that there is pride in watching Filipino shows.

The fact that some of our local friends know some Filipino personalities and that they know the story line of Pangako sa 'Yo as it was shown here, make me more proud to say that we are also patronizing Filipino shows.

So Gulong ng Palad ended last night. We had a great time. Thank you TFC/ ABS-CBN! Thanks to the cast especially Cherie Gil, Rio Locsin and Cristine Hermosa.

Immediately after the show ended, we went to Woodlands for the movie Poseidon. Though, it was not that good for me, it was still worth the money we paid for we really realized the value of team work in a desperate situation. Even though Kurt Russell drowned here which I really don't like to happen to his character, still he died a hero. In him, we can see how great a father's love is. He decided to save his companions himself, not letting her daughter's fiancé to do it, as he knew his daughter and fiancé have more bright days ahead if rescued.

And so in just one night we watched two stories, both a feast to our eyes that left us values in life that would help us to see life more positively. Whether we may be labelled as bakya or sosyal doesn't matter now. What's important is that we enjoy what we watch.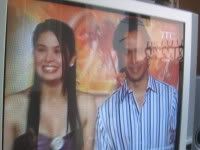 Christine Hermosa of Gulong ng Palad