Finally I finished reading the books I bought at Borders bookshop in Berjaya Times Square.
I finished the first book titled, Call Me Elizabeth days ago. It tells how a mother decided on a career for the love of her children.
Last night, I finished reading this book, A Brother's Journey. I was shaken. It was difficult to accept the abuses one child can get from his own mother.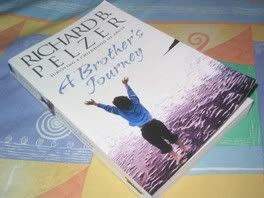 Life is really full of conflicts, mysteries and unexplained emotions. How can one mother sells her own body for the love of her children and how can one mother abuses her own child for the heck of it?
For me, I will still try my best to point to one and all that children are the best gifts of God. I may also be guilty in one way or another of not giving much love to children, but then, what's more important for me is the thinking that we, adults, need to try our best to understand why children behave in such a way. By that understanding, we can interact with them in a more positive way.
But for child abuse, whether done because of emotional instability or for disciplinary purposes, is still the most unforgiveable act an adult can do to a child.
Therefore let us act now. Stop the cycle of abuses. Let us be aware of how an adult's words and actions could affect a child in his development and lately in adulthood. Let us put LOVE in our words and actions to children so that they will grow to be confident and loving adults in the future.