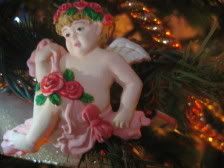 I could not explain my feeling when I went to work today. I felt so stressed these past few days. Imagine, we had our Graduation Concert on the 10th. For sure you know how much effort I exerted in the preparation for my children's performance. Then, we had our Christmas party gathering with the elderly in the elderly home nearby. Combined with all the preparation for the coming academic year like the new classroom decors and learning corners, and the Parent Teacher Conference scheduled today, how you could blame me if I felt so lazy to go to work. I even wanted to complain and say, "hey its Christmas Eve today."

When the first set of parents arrived, my energy was boosted. Discussing about the child's progress and development in all aspects made me feel so energized. Isn't it a nice feeling to discuss a child's creativity and interests to their own parents?

But this father and his child made me value my work the more and Christmas at the same time. My opening salvo made him really cry. Yes Virginia! The father did really cry for he was so touched by my words of appreciation for him and his wife in coming to the PTC which meant they really cared for their child. The father being overseas felt guilty that he's not much of a good father. I assured him that quality time with his child is more important than quantity time. And with this episode, I realized the true value of my job, and that there is love among people made stronger by the Christmas moods.

So, I went home at twelve noon, satisfied that I went to work, what with the Christmas presents and greetings from colleagues. With a happy disposition, though tired, I prepared food for our Noche Buena.

While doing preparation and cooking, I managed to watch TFC cable programmes. I was able to watch Wowowee and Magandang Gabi Bayan. The families living in the streets and the prisoners who have been away from their families were shown on the shows respectively. Though I was so touched and in the verge of shedding tears for those people, I felt joy, for they were given help by the people behind the 2 shows.

It seems that this Christmas Eve is really a Christmas full of angels. From the father of my student who saw an angel in his child and an angel on me so to speak and me on his child for making me realized the goodness of my work and to those people of the shows who helped our poor countrymen in prison and those living in the streets ,who are also angels on my eyes and on the eyes of the children and adults they made happy, I encouraged one and all to be angels too in their own simple way. Let us be angels not only on the birthday of Jesus, but also in all the days to come.

MERRY CHRISTMAS!!!!